The Walking Dead Season 10 episode 11 is just hours away, and we've got our advance SPOILER report courtesy of a Spoiling Dead Fans forum post. Want to know what happens when Alpha's horde hits Hilltop? Has Negan truly switched sides? We've got answers to all your burning questions below.
The episode begins with Kelly and Aaron telling Yumiko and Luke about Magna and Connie's cave-in situation. In distress, Yumiko says she doubts the pair is still alive. It's at this moment that Daryl and Lydia return from their adventure, and Lydia informs the group that she believes Alpha's horde is on the way.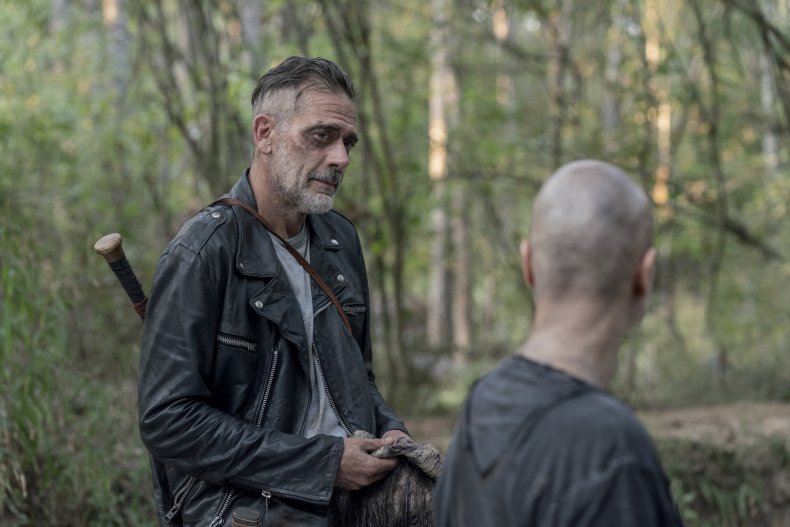 With that threat in mind, the cave search is abandoned to prepare for war. Ezekiel, feeling that his days may be numbered, decides to stop concealing his tumor. Daryl offers words of encouragement, and they agree to help get the children out of Hilltop if the other one dies. As for Carol, she and Ezekiel have sex. The man asks his former wife if the possibility of imminent death had anything to do with it, and the two share a laugh. Even Carol and Daryl patch things up, with Daryl telling her "I'm never going to hate you."
Elsewhere in the episode, there's a big focus on Eugene and his radio pal, Stephanie. When they both discover they've seen the exploding satellite, they realize their locations must be close. Stephanie agrees to talk to her people about possibly meeting but notes that they're a cautious bunch. Eugene also mentions wanting to play Stepahinie a song via record, but he can't find it and refuses to sing it himself. When Eugene's not around, Rosita hears Stepahnie talking on the radio and asks who she is. This infuriates Eugene, who has now broken his promise to Stepahnie about keeping their chats a secret.
Rosita and Eugene do patch things up, though. She asks Eugene to kiss her to prove he's truly into Stepahnie. He refuses to do so, admitting it would be weird to want to kiss someone he's never met. Rosita tells him to go get her if he wants her, and Eugene kisses Rosita on the cheek before he leaves. On the eve of battle, Eugene and Stepahnie sing "When The Wild Wind Blows" by Iron Maiden together. She asks to meet him in a rail yard the following week.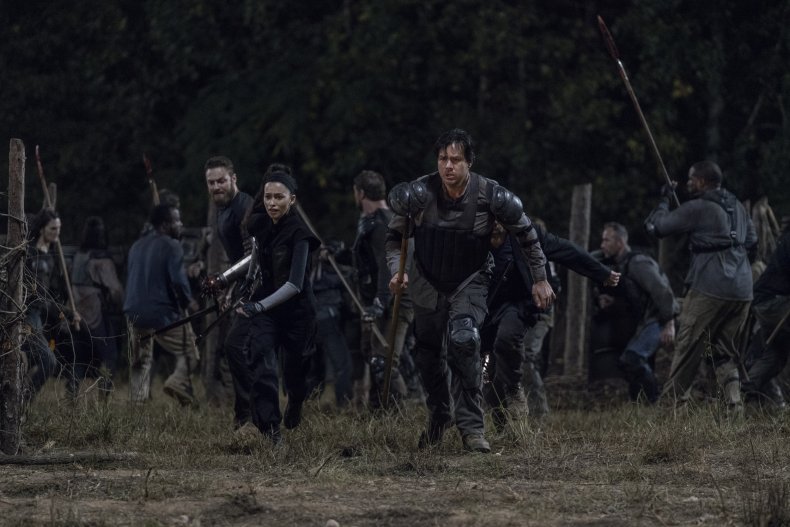 In the battle, it appears Negan has gone full Whisperer at this point, as his arms get whipped and he gets a mask of his own. That being said, Negan hopes Alexandria and Hilltop will join them if pressured enough and is surprised when they resist. When our heroes try to take the children out before the fight begins, it's discovered that all the roads have been blocked. Daryl believes Negan is the only one smart enough to do that. Predictably, things go really bad for Hilltop, as a combination of horde walkers and flaming arrows lay siege to the community. The episode ends with Daryl surrounded by fire as zombies close in.
So, it would appear episode 11 of The Walking Dead very much establishes Alpha as a legitimate threat to the series' protagonists. But the seeds are planned for the future as well, as Eugene's chats with Stepahnie slowly introduce a new community. Will they help in the fight, or is this battle something Hilltop handles on its own?
The Walking Dead continues March 8 on AMC.
What are your thoughts on episode 11 of The Walking Dead based on these spoilers? Will Negan support the Whisperers for good? Tell us in the comments section!
Source: newsweek.com