There's nothing on television quite like Rick and Morty. The adventures of alcoholic, dimension-hopping mad scientist Rick Sanchez and his hapless grandson Morty is one of the few series we can think of that's capable of being action-packed, mind-blowing, poignant, dramatic, and hilarious — sometimes all at once.
The wait between previous seasons has been very long, but with the series having scored a ridiculous 70-episode renewal last year, creators Dan Harmon and Justin Roiland now have enough job security that they'll be able to narrow their focus, and get new seasons to air more quickly. With three seasons completed and a fourth getting ready to drop any time now, fans and newbies alike will be trying to catch up, and the show's audience tends to be a cord-cutting bunch. So: is Rick and Morty available to stream on Netflix?
Sadly, if you live in the United States, the answer is no — and what's more, it doesn't look like it will be anytime soon. Adult Swim, which controls the Rick and Morty streaming rights, did grant those rights to Netflix worldwide — with the sole exception of the U.S. So, while the first three seasons of Rick and Morty can be found on the streamer internationally, stateside Netflix subscribers are out of luck.
There is, however, a bit of a silver lining to this. It always takes quite awhile, often a year or more, for new seasons of any TV series to show up on Netflix — and Rick and Morty die-hards have had just about enough of waiting to watch new episodes. Fortunately for them, there are a multitude of streaming options not only for the seasons that are already in the can, but the upcoming one, as well.
Where can I stream Rick and Morty?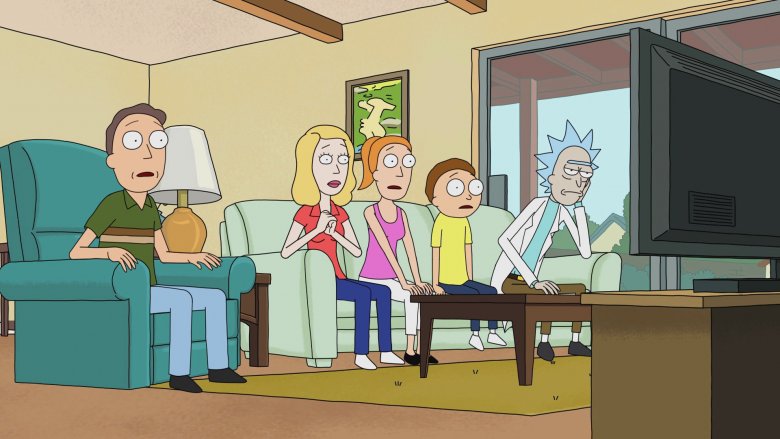 The go-to option for streaming Rick and Morty in the United States is Hulu, which somehow managed to ace Netflix out of those stateside streaming rights. Seasons 1-3 of the series are available to stream on Hulu right now, and once the fourth season drops, the streamer will have a couple of options for you to stay current.
The first is with Hulu + Live TV, which can be added on to a standard subscription (for a nominal fee, of course). This option will allow you to watch new episodes of Rick and Morty as they air, and it also has DVR functionality, which allows subscribers to record the latest episodes and watch them at their leisure.
Of course, you can also catch the newest episodes with a standard Hulu subscription — you just have to wait until the day after they air, as with all other currently airing seasons. Just make sure you don't keep too many episodes in the bank for binging, because with this option, you only get access to the five most current episodes; the entire season will typically be available to stream several months after it's finished airing.
If you're a big Rick and Morty fan who doesn't happen to have Hulu, it may interest you to know that when the new Disney+ streaming service drops on November 12, it'll be offered with a bundle containing standard Hulu and ESPN+ subscriptions for $12.99, which is right in line with the price of a standard Netflix subscription. If you were planning to check out Disney+ anyway — and, really, who isn't — this might be an appealing option.
Even if you're just not into Hulu, though, there are other options for streaming Rick and Morty. If you're looking for the cheapest option, head on over to Adult Swim's website; they have the entire series streaming on a constant rotation, and it doesn't get much cheaper than free. The only drawback here is that you can't select which episodes you want to watch; you just have to jump in and, well, float down the stream. It's also not clear when or if season 4 episodes will be available here once they start airing, but our guess is that they will be — perhaps just not right away.
There are also a selection of other live TV streaming services available besides Hulu's add-on, including Sling TV and Playstation Vue, and you can always  rent individual episodes a la carte on Amazon Prime Video; all of these will be excellent options for catching season 4 episodes once they start to drop.
So, while Rick and Morty won't be popping up on Netflix anytime soon, Adult Swim has gone out of its way to make sure that cord-cutters aren't left out in the cold. You may not want to waste much time in figuring out which option suits you the best — while no firm release date has been announced, Rick and Morty season 4 will be premiering sometime in November 2019.
Source: Looper.com
#Tv Series News